Welcome to ROO22 - your window to all the news in and around the Clarence Football Club.  Delivered to you monthly during the off-season and weekly in-season, when it happens around the club you'll hear about it first by subscribing to ROO22.
Remember, there's no better way to support your mighty Roos than by buying a season membership.  We have packages to suit everyone.  To browse our membership packages, please click the membership link on the menu above.  You can purchase or renew your membership straight from the website.
Men's Team Leadership Group Announced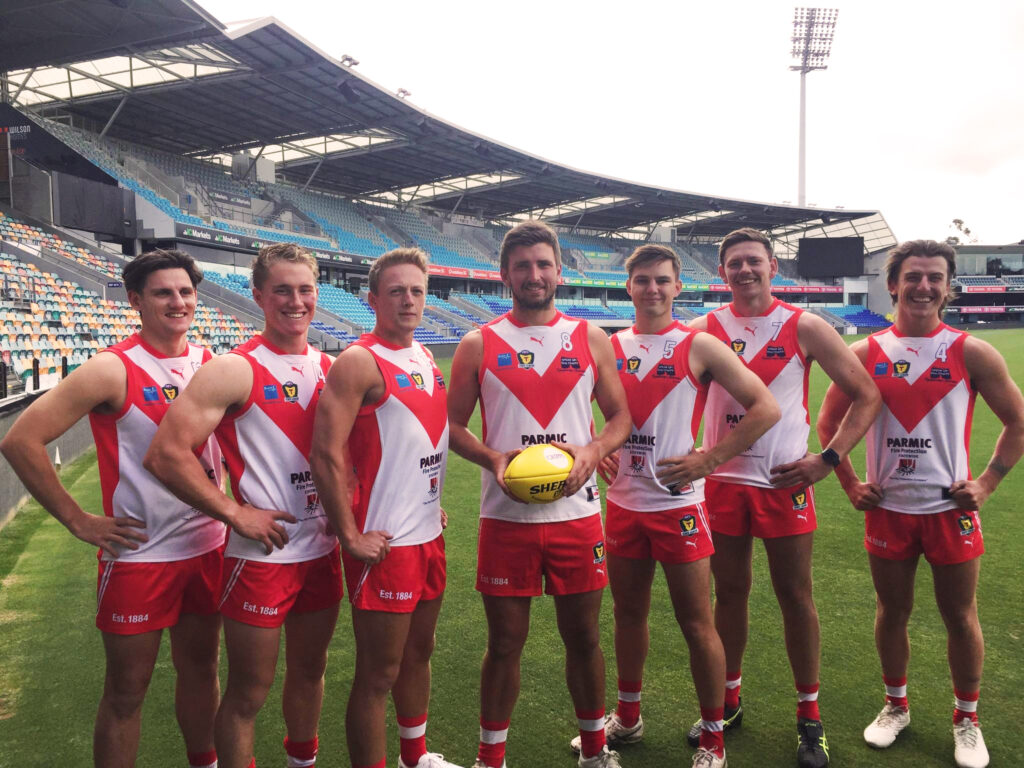 The captaincy of the Clarence Football Club is an honour bestowed upon only a select few across three-quarters of a century of play. Only 32 men have held the title of captain since the club's debut in 1947 and their names are etched for all time on our honour boards and in the memories of those who watched them play.
From our very first captain Bert McTaggart, through to club legends such as Les McClements, Stuart Spencer, John Bingley and Noel Leary, the past captains of the Clarence Football Club have all shared the common traits of outstanding play on the field, resilience and an unquestioned ability to motivate those around them. They lead by deeds, not words.
It is with great pride that the Clarence Football Club announces Jarrod Harper as our 2022 senior captain. Jarrod is last season's Chris Riewoldt medallist and is approaching his 150 senior game milestone. The players, coaching staff and board members are united in wishing Jarrod all the best as he becomes the latest custodian of the club's highest honour.
Supporting Jarrod in the role is the leadership group of:
James Holmes and Baxter Norton - Vice Captains
Keegan Wylie and Jack Preshaw - Deputy Vice Captains
James Bealey and Luke Swinton - Team Leaders
We're sure you'll agree that Coach Ryan has assembled an outstanding group of on-field leaders and we're all looking forward to seeing them in action when season 2022 kicks off.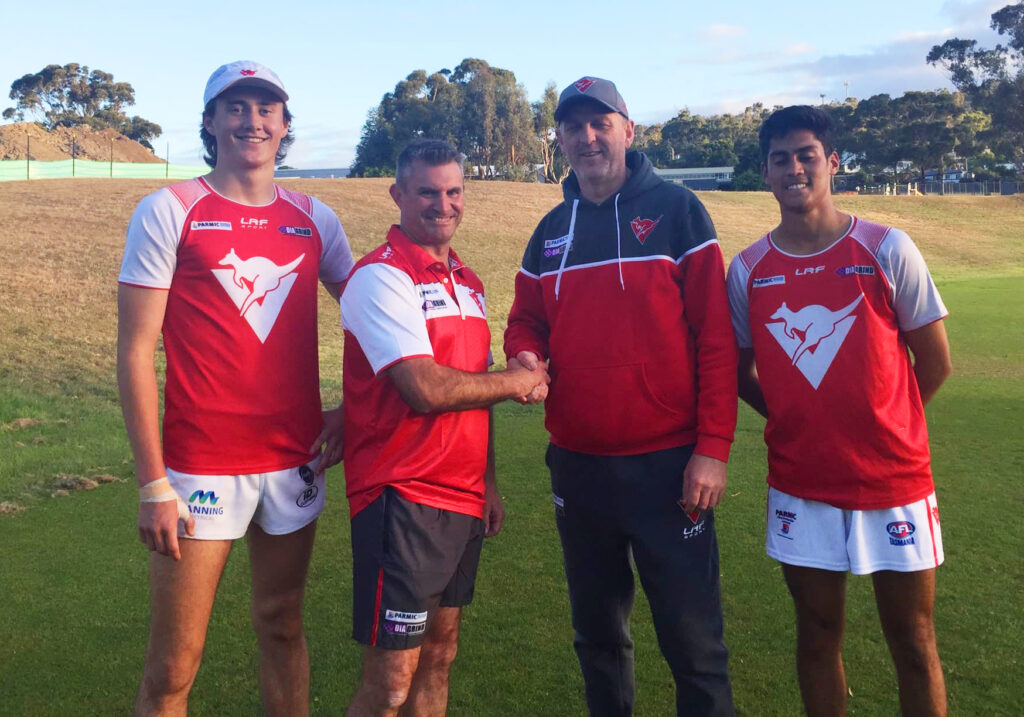 Two big appointments headline the men's news this month.
Firstly, we are excited to announce that Jeremy Busch has accepted the role of U18 coach for season 2022.  Jeremy has played at TSL level and has been involved with the Lindisfarne junior program for several years so the U18 players have been lucky to get a knowledgeable and experienced coach to head up their premiership defence in 2022.
Our second major appointment is that of Sam Rossetto as the club's Strength and Conditioning Coach.  Sam operates his own business SPR Conditioning and will be bringing a high level of expertise and modern methods to the club's strength and conditioning program.
With the season rapidly approaching, the men's teams have two practice matches locked in during the coming weeks.  The first will be against Glenorchy at North Hobart Oval on 5 March while the following week we travel to Twin Ovals for a practice match against Kingborough.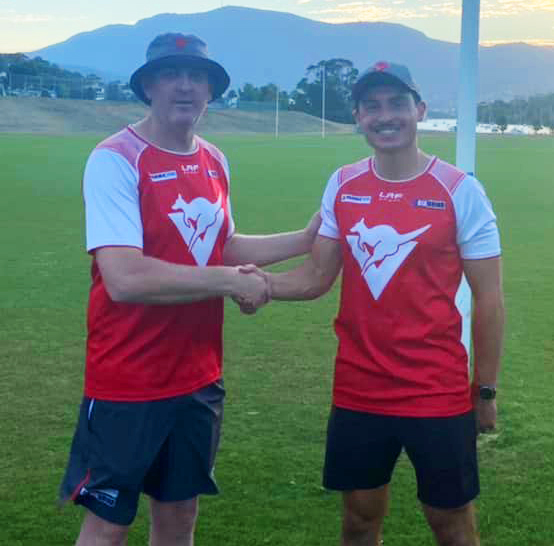 The TSL season fixture has been released and with constraints on the use of Blundstone Arena due to Sheffield Shield commitments, we do not get to enjoy the comforts of home until round 6 when we host Glenorchy.  To compensate for this, we have two separate stands of three consecutive home games later in the season including one where we play at home four times in five weeks.  The full Seniors and Development fixture can be found here.
The U18 roster is still in the final stages of preparation and we will push that out to members as soon as it is finalised.
With the opening of our new gymnasium, our women's team has begun to split training across on-field work and strength and conditioning programs under the guidance of S&C Coach Chloe Reynolds.
Earlier in the month a large contingent of our women's team descended upon North Hobart to support everyone's favourite Roo, Nicole Bresnehan as she hit the field for the "other" Roos in their AFLW match against Fremantle.  Nicole finished the match inside the top ten in possessions for her team and by all accounts a great day was had by all.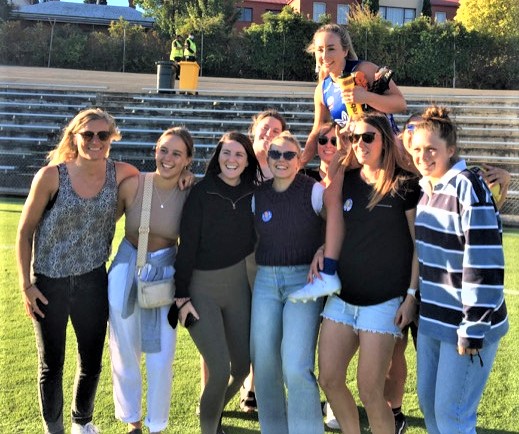 The women's team kicks off their pre-season schedule on 5 March with a practice match against the Suns in Sorell.
The final SFLW roster for 2022 is still being finalised however at this stage the first game of the season is set for 9 April against Claremont at Abbotsfield Park.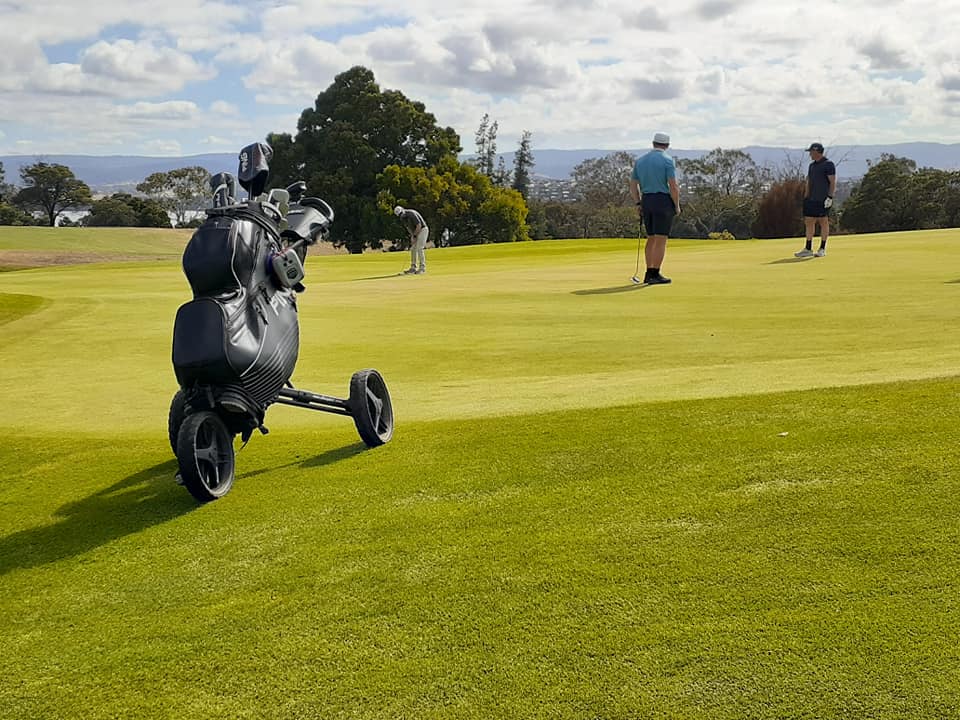 The golf balls were flying and the scores were plummeting at the Tasmania Golf Club for the Past Players and Officials' Association's annual Daniel Hulm Golf Day.
Warm weather and the mildest breeze made for a spectacular day that started out with the smell of bacon and eggs wafting across the course courtesy of the exceptional Bob and Wendy Joseph who were on the tools from soon after 6:00am.
When the final scores were tallied, the team of Brett Geappen, Scott Mathieson, Andrew Fisher and Rob Jubb came through victorious with a remarkable 21 under par, annihilating Jim Furyk's all-time PGA record score for 18 holes by 7 strokes.  It was a fantastic day on the course and a tremendous tip of the cap to the memory of Daniel.
In further Past Players news, the Association will be holding their Annual General Meeting on Tuesday, 8 March, 5.30pm at Clarence Football Club, Social Clubrooms. Blundstone Arena.
If you don't already follow their Facebook page, swing by and start following Past Players' news here.
In this issue, we put the sponsor spotlight onto the club's newest sponsor, NECA Education and Careers. 

NECA Education & Careers is not your run-of-the-mill trade school or Group Training Organisation. It is a business which thrives on delivering great customer service to everyone who walks through their doors.
They make sure electrical apprentice jobs and traineeships are filled with skilled, dedicated workers.
Their customers range from pre-apprentices/apprentices to trainees to top tier electrical contractors. If you are looking for electrician courses to grow your career or to join them as a trainee, they have the right solution for you. If you are looking for a trainee or apprentice they have the right candidate to ensure the success of your projects.
NECA has come on board as a major sponsor for the club this season and while their brand will be across both male and female programs, the major focus is on the women's team.  For anyone interested in learning more about NECA and how they can help you business, you can visit their website here.
4 March - GOLDEN ROOS
5 March - MEN'S PRACTICE MATCH V GLENORCHY - NORTH HOBART OVAL
5 March - WOMEN'S PRACTICE MATCH V SUNS - SORELL
8 March - PAST PLAYERS AND OFFICIALS' ASSOCIATION AGM
12 March - MEN'S PRACTICE MATCH V KINGBOROUGH - TWIN OVALS
2 April - FIRST CLARENCE TSL GAME OF SEASON 2022 (season commences the week before however Clarence has a bye in round 1)
9 April - FIRST SFLW GAME OF THE SEASON