Welcome to ROO22 - your window to all the news in and around the Clarence Football Club.  Delivered directly to your inbox, when it happens around the club you'll hear about it first by subscribing to ROO22.
Remember, there's no better way to support your mighty Roos than by buying a season membership.  We have packages to suit everyone.  To browse our membership packages, please click the membership link on the menu above.  You can purchase or renew your membership straight from the website.
Bingley-Linton Cup Luncheon and Peter Hudson Book Launch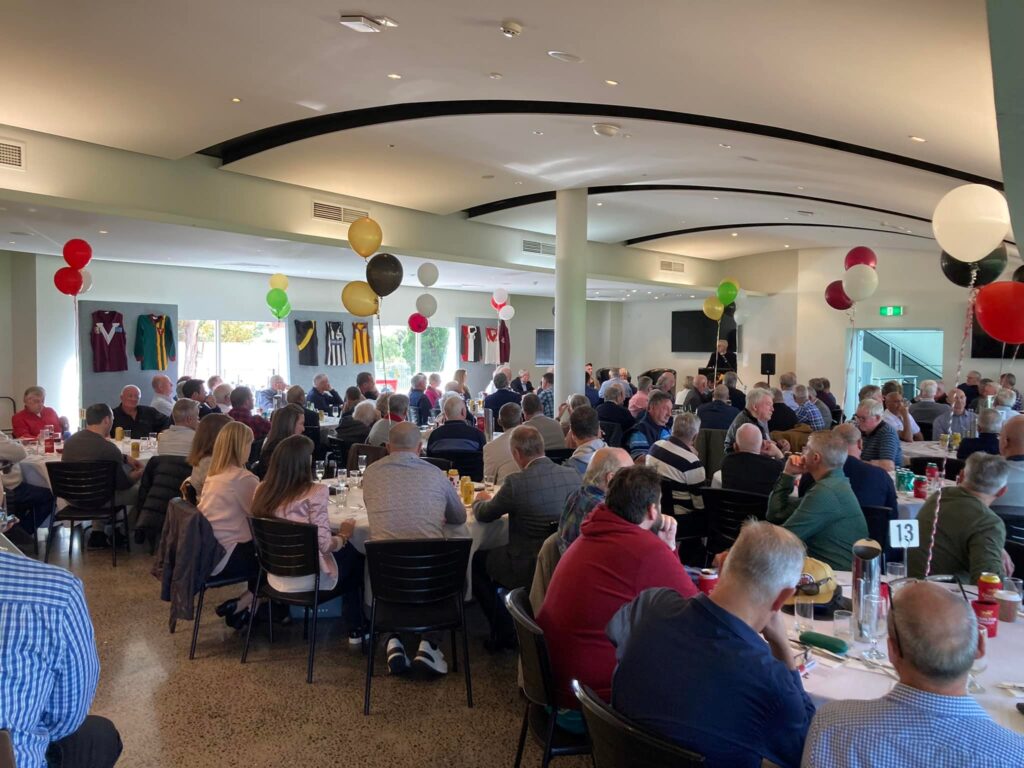 The Past Players' and Officials' Association recently held a magnificent event to coincide with the Bingley-Linton Cup and it was a full house to hear Peter Hudson and many others speak at the special event launching the book "A Football Genius - The Peter Hudson Story".  We were extremely privileged to have Dan Eddy the author present at the event along with the great man himself.
A capacity Century Room was captivated with Dan as he interviewed Peter on the content of his book. The room was full of Tassie footy royalty with too many champions to single out so we'd like to thank the following:
GDFC
NNDFC
Tasmanian Australian Football Past Players, Officials and Family
CDFC
Dan Eddy
Peter Hudson AM
Roger Curtis
Andrew Wright
The winner of the day was our great game with plenty of local footy love shared in the room.
And of course if you would like a copy of Dan's book call into our friends at Dymocks.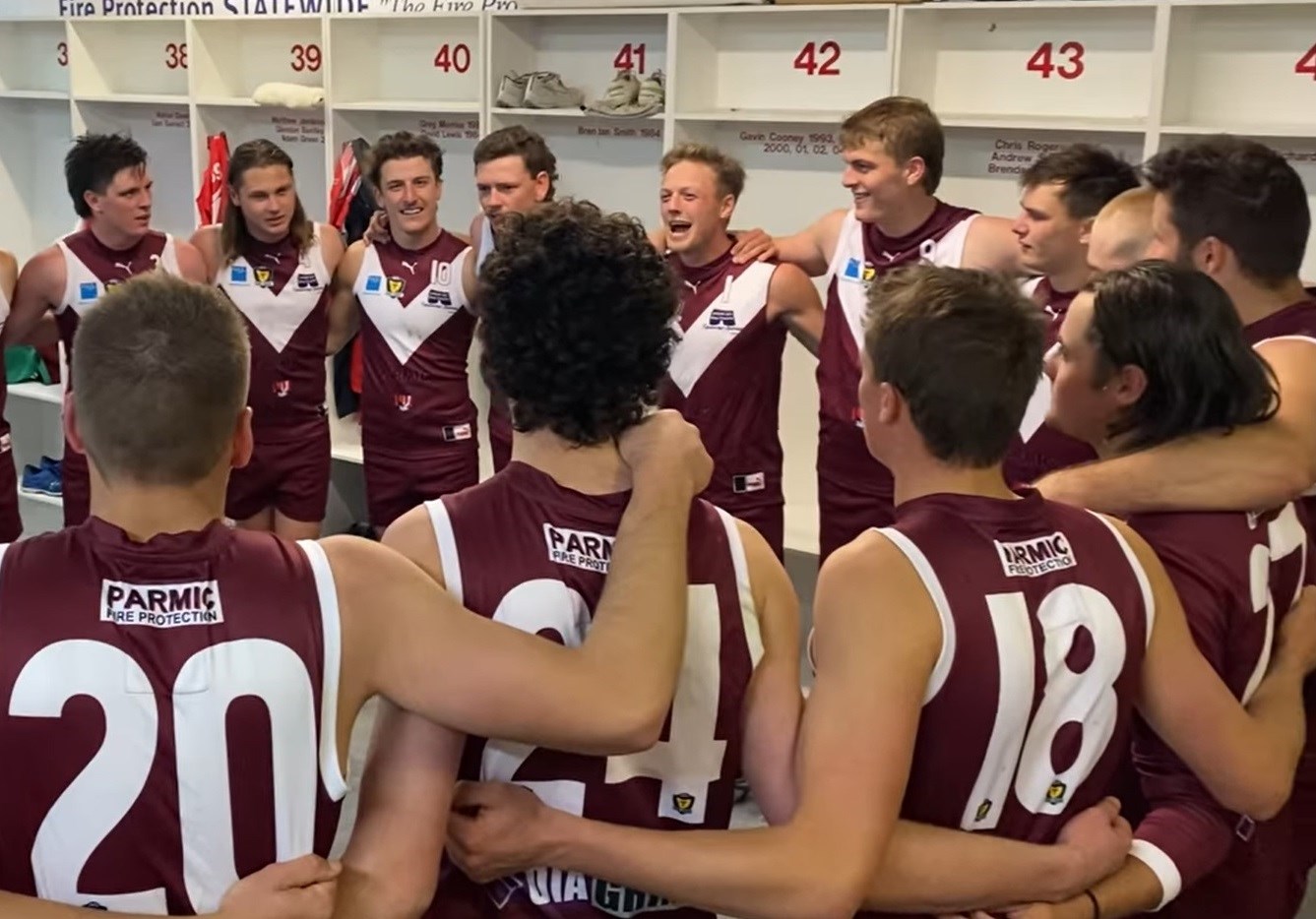 We have now completed a full cycle of matches against every team and the results thus far are very encouraging for the club.
The Seniors find themselves in a three-way tie for second position on the ladder along with North Launceston and Kingborough.  In what could easily be biggest match of the season thus far, our next outing will be against Kingborough in a game that will give the winner some much needed separation.
Our Development team sits comfortably inside the top four, tied on points with second placed North Launceston but far adrift of the Northern Bombers' massive percentage.
In the U18 competition, our team is undefeated and two games clear on top of the ladder - a great indication of a bright future for the senior club.
Over the past three rounds, the Senior team has had two dominant wins against Glenorchy and North Hobart along with a tough loss to reigning premier Launceston in a game the Launceston coach called the toughest they'd played all year.
Against Glenorchy, the club retained the Bingley-Linton Cup with a resounding victory that saw Colin Garland win the best on ground medal thanks to his seven goal haul on the day.  After the completion of a full round, Colin sits atop the TSL Cripps Player of the Year voting and is second on the leading goal kicker table.
In atrocious conditions at North Hobart in round 7, the team put on a wet weather clinic holding the Demons goalless for three of the four quarters while slotting ten of our own, six of them shared between wet weather specialists James Holmes and Jacques Barwick (three apiece).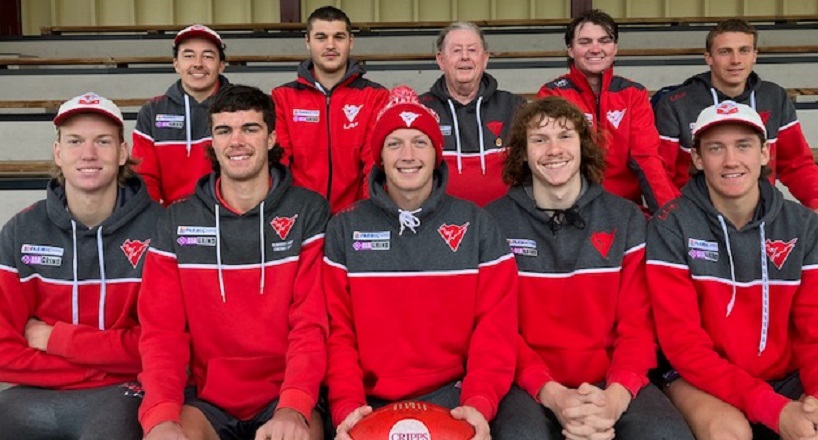 Even though the weather at North Hobart Oval last week was terrible, we were still treated to a rare event when thanks to a bye in the NAB league, super-sponsor Tony Marshall was able to meet with all his sponsored players on the one day at the same venue.
Tony's ongoing commitment to supporting young talent in the club is second to none and it was a fantastic opportunity for Tony and his sponsored players to catch up.
Pictured above at North Hobart Oval before the Clarence seniors game vs North Hobart are the following Clarence footy players (from bottom left) Cameron Owen, Tom McCallum, James Holmes, Sam Green and Bryce Alomes with (from top left) Jack Callinan, Liam Howard, their jumper sponsor Tony (Tex) Marshall, Colby Whitelaw and Oscar Paprotny.
All the players (except Colby – concussion watch) played in the superb team victory against the Demons, which was also Cameron's senior debut with the Roos.  Fantastic effort guys, well done.
Each of these players have played footy with the Clarence Junior Football Club on their path to the senior club, and have represented Tassie in under-age football. They are all premiership players with Clarence Football Club teams over the past few years.
Again, many thanks to Tony for his continued on-going support of young Clarence players which is greatly appreciated by the board, club members and the players.
The full Seniors and Development fixture can be found here.
The U18 roster can be found here.
Going into last week's game against Kingborough, the women's team sat in a three-way tie atop the SFLW ladder with North Hobart and the Tigers.
The tie was broken at the Twin Ovals in positively Arctic conditions where in some of the worst weather imaginable, we somehow lost the game despite holding Kingborough scoreless in the first and fourth quarters and only conceding a single goal in the first half.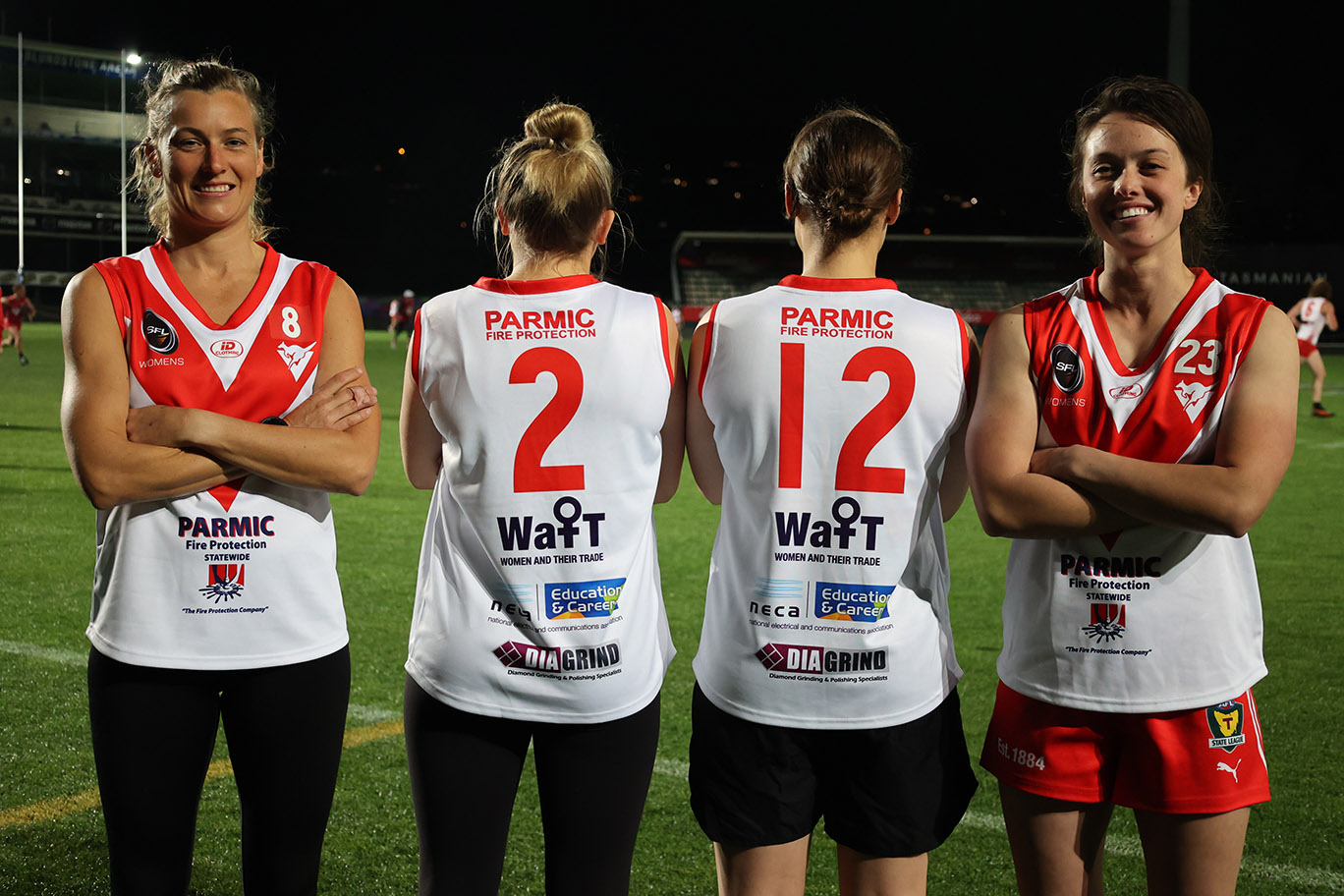 Under any other conditions such a defensive effort would be the blueprint for victory but unfortunately in a game that resembled the fifteenth century Battle of Agincourt, it was not enough.  The team now regroups for a game against Claremont this week followed by a key return match with North Hobart on 21 May.
Our round 4 clash against South East Suns was our first for the season at home and we ran out comfortable 39 point winners.  Best players on the night were the always dependable Louisa Marmion yet again, along with Mel Wise, Nikola Deiter, Josie Crowden, Chloe Edmand and Gemma Blackburn.
The recent match against the South East Suns ended a little early due to a nasty injury to one of our great young players Millie Lamprecht.  For those who have enquired about Millie, she was transported to hospital that evening and was later released home after scans cleared her of any major damage.  She will however be out of action for the foreseeable future in order to ensure she has fully recovered.  Those supporters at the game would have every right to have been concerned on the night but in this case we have ended up with a very positive outcome.
Our full women's fixture can be found here.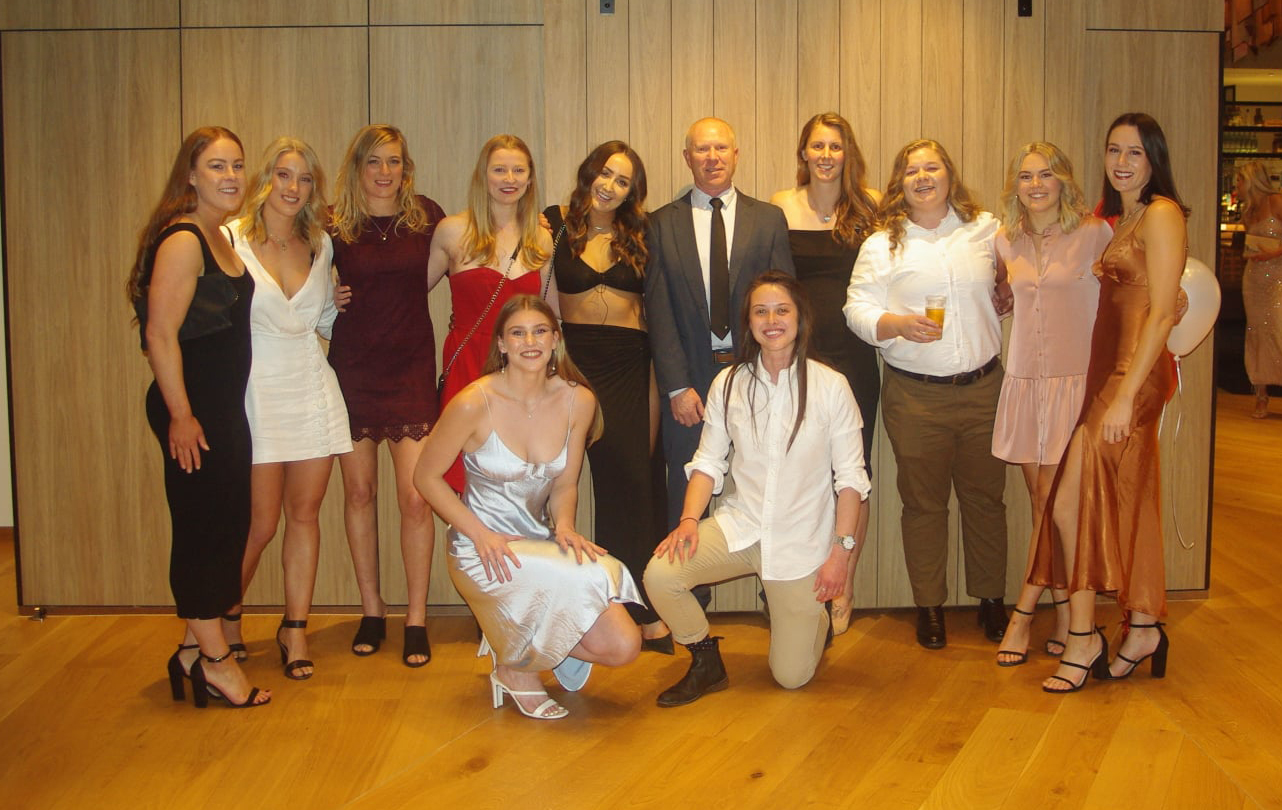 All members and supporters are invited to this year's Red and White Ball that will be held at the Wrest Point Hotel and Casino Boardwalk Gallery on Saturday 18 June 2022 6:00 PM - 11:30 PM
The dinner will be a three course buffet with all guests receiving a complimentary welcome drink on arrival.  A live band will be playing after the dinner for those wishing to extend the night a little longer.
Tickets for the Ball are $85 per person and are available only via the club's TryBooking page.  There will be no door sales and tickets must be purchased before midday on 11 June.
You can use the link below to book your tickets - we'd love to see you there.
In this issue, we put the sponsor spotlight onto one of the club's local sponsors, Electric World Betta Home Living.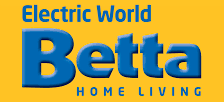 As a Betta store, Electric World is part of Australia's largest Independent electrical appliance buying group.
Electric World have a wide selection of products from leading brands for you to choose from like Fridges, Freezers, Washers, Dryers, Dishwashers, Air Conditioning, / Heat Pumps, Cooking, Kitchen Appliances, Audio and the latest in big screen TVs.  They carry a range of top brands you can trust like Fisher & Paykel, Electrolux, SMEG, Asko, Westinghouse, Samsung, LG, Panasonic, Beko, Sunbeam, Breville, Hisense, Dyson and more, all at the best prices.
Electric World Betta Home Living provide high quality solutions with expert, friendly advice. Located right in the heart of Rosny, there is plenty of easy parking at the door and delivery available.
Electric World Betta Home Living has been a long-time supporter of the Clarence Football Club so if you have any entertainment or appliance needs, be sure to thank them for their ongoing support by giving them a try.
14 May - WOMEN V CLAREMONT - ABBOTSFIELD PARK
21 May - WOMEN V NORTH HOBART - NORTH HOBART OVAL
28 May - Stay ChatTY Cup v LAUDERDALE
3 June - GOLDEN ROOS
18 June - RED & WHITE BALL - WREST POINT BOARDWALK