Welcome to ROO22 - your window to all the news in and around the Clarence Football Club.  Delivered directly to your inbox, when it happens around the club you'll hear about it first by subscribing to ROO22.
Remember, there's no better way to support your mighty Roos than by buying a season membership.  We have packages to suit everyone.  To browse our membership packages, please click the membership link on the menu above.  You can purchase or renew your membership straight from the website.
Finals are Nearly Here - The Scenarios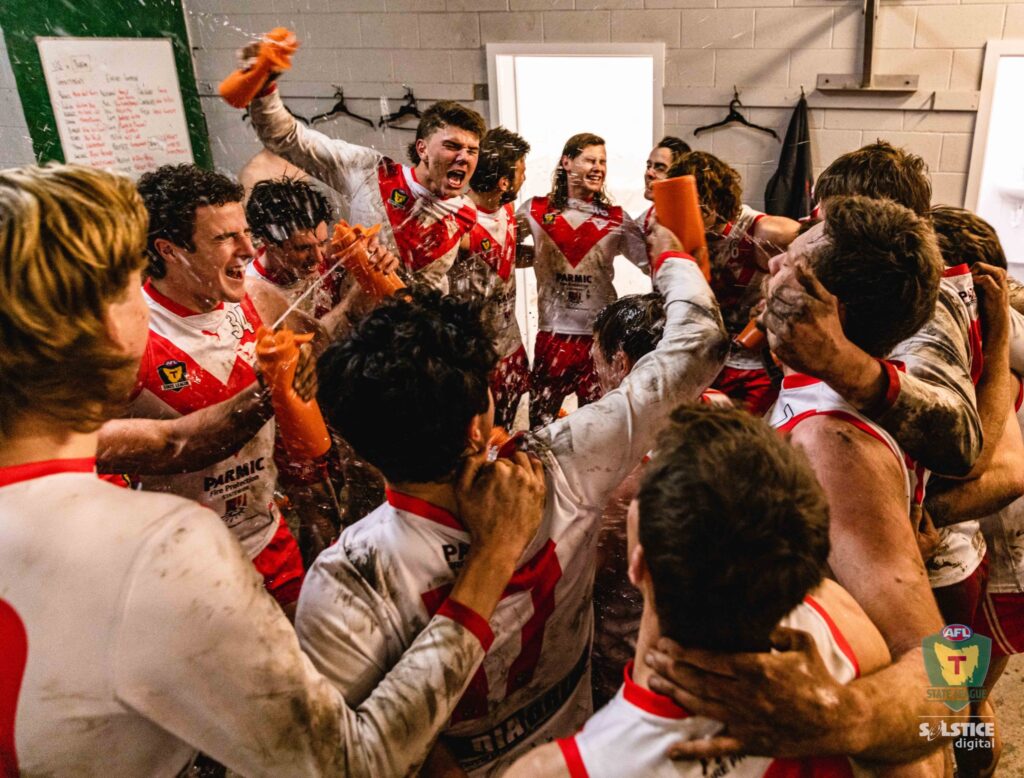 With finals nearly here, your mighty Roos are hitting form at just the right time for a deep run.  We now enter a three week home stand to finish the season with games against North Hobart, Launceston and Glenorchy.
Here are the scenarios during the final weeks:
We cannot finish top of the ladder.
Kingborough hold a two game plus percentage advantage over us in second position with a game in hand.  To move into second spot we would need to win our final three games and have Kingborough lose all four of their final matches.
Two wins in our final three matches will assure us of third position on the ladder regardless of other results.
One win PLUS a loss by EITHER Lauderdale (Glenorchy/North Hobart/Kingborough) or North Launceston (Kingborough/Glenorchy/North Hobart) assures us of a finals berth.
One win PLUS a loss by BOTH Lauderdale and North Launceston assures us of third position.
In the Development League we will be having our percentage adjusted at the conclusion of the season to reflect the forfeit by Glenorchy earlier in the year.  The Roos are guaranteed of a finals spot and can finish anywhere from second to fourth.  With North Launceston also waiting for percentage adjustment via a Glenorchy forfeit, the Dev League scenarios are best left alone as we don't have a super-computer powerful enough to work it all out.
In the U18 competition, the mighty Roos are guaranteed of top position regardless of results over the final weeks.
With two games remaining in the women's competition (South East Suns/Kingborough), we are guaranteed of playing finals.  With three teams tied for second (Clarence/Kingborough/Glenorchy) and with Glenorchy and Kingborough playing each other this week, the simplest scenario for our women to be all but assured of second position is to win both games (Glenorchy could tie us but our current percentage is handily better).
It's shaping up to be a huge finals campaign for the entire club with plenty of potential for success and we can't wait.
GO ROOS!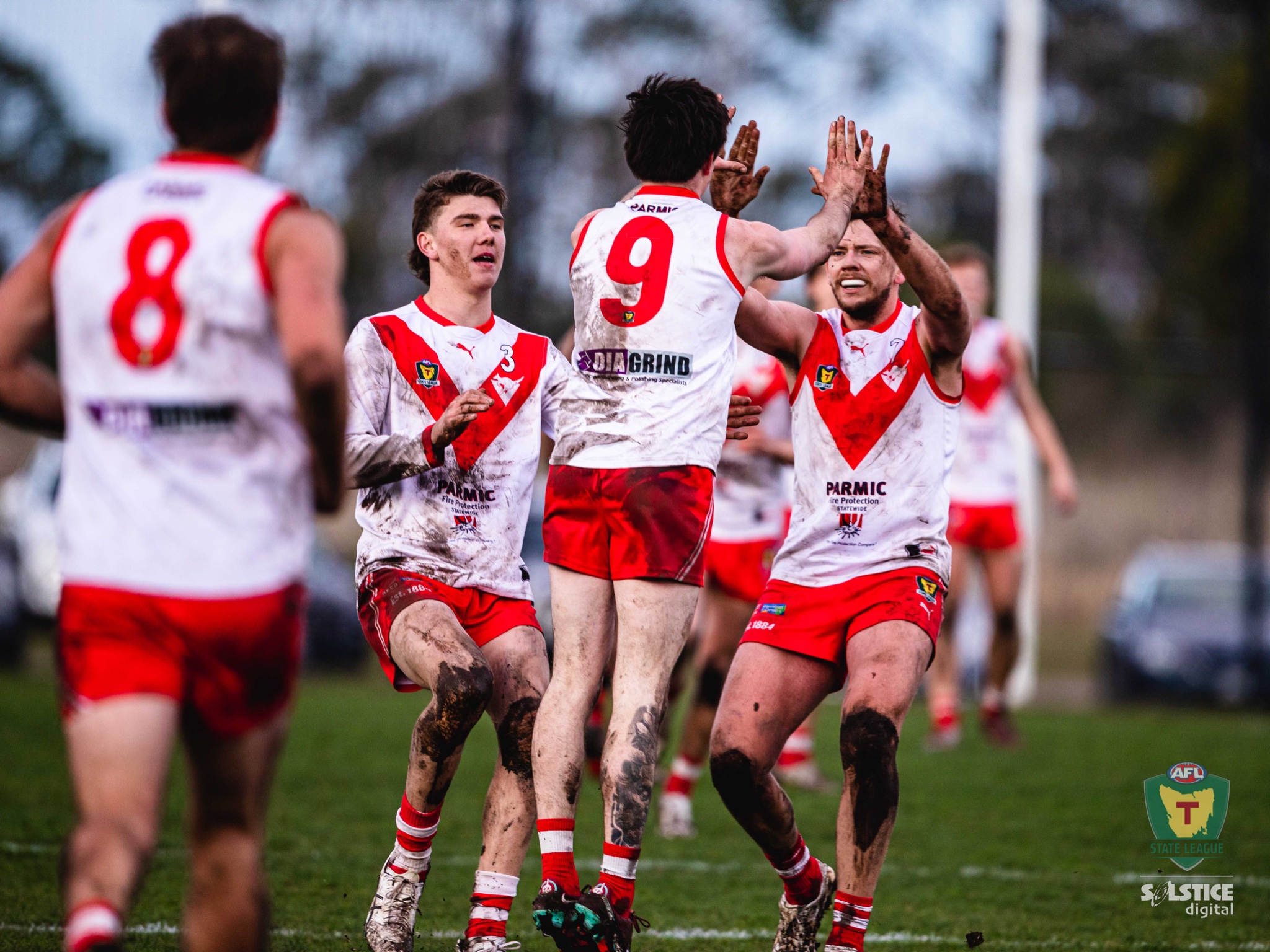 Two huge road wins in the past fortnight have propelled the senior team into the box seat for third position on the ladder.  We now hold our destiny in our own hands with home games against North Hobart, Launceston and Glenorchy to close out the season.
Our past two matches have seen a huge step forward for the team and Coach Ryan's game plans are now starting to bear fruit.
The return of Baker Smith from his stint in Victoria has been a huge boost for the already solid backline and we have also been treated to some cameos from Devils players Cam Owen and Jack Callinan who bring an extra dynamic to the team
Our most recent victory against North Launceston saw us control the game wire-to-wire with a huge nine players contributing to our final tally of 17 goals.  Best afield was Ollie Preshaw whose six goals is the second-best haul of any Clarence player this season, behind only Colin Garland's bag of 7 against Glenorchy earlier in the year.
Ollie and Colin now have 57 goals between them on the year.  With Bryce Alomes now also starting to make himself known in the forward line as well as the ever dangerous Jacques Barwick lurking, our offensive end of the ground is now threatening to match the efficiency of our backline, which could spell trouble for opposition teams at just the right time of year.
The previous week against Lauderdale at SkyBus Oval, we sent an ominous warning that we are capable of performing in any conditions with a dominant performance against our Eastern Shore rivals.  On an atrocious playing surface we held Lauderdale to six goals, half of which came courtesy of 50 metre penalties, and moved the ball with ease through the midfield all day.
With finals looming, we could not possibly be hitting form at a better time of the year and it is shaping up to be an exciting finals campaign.
The 2022 SFLW season has suddenly found itself wide open with North Hobart losing players, Glenorchy gaining players and the mighty Roos losing some, gaining some and completely rejigging the team.
With huge wins over Kingborough and top of the ladder North Hobart, the Roos briefly flirted with top spot in a super-tight competition.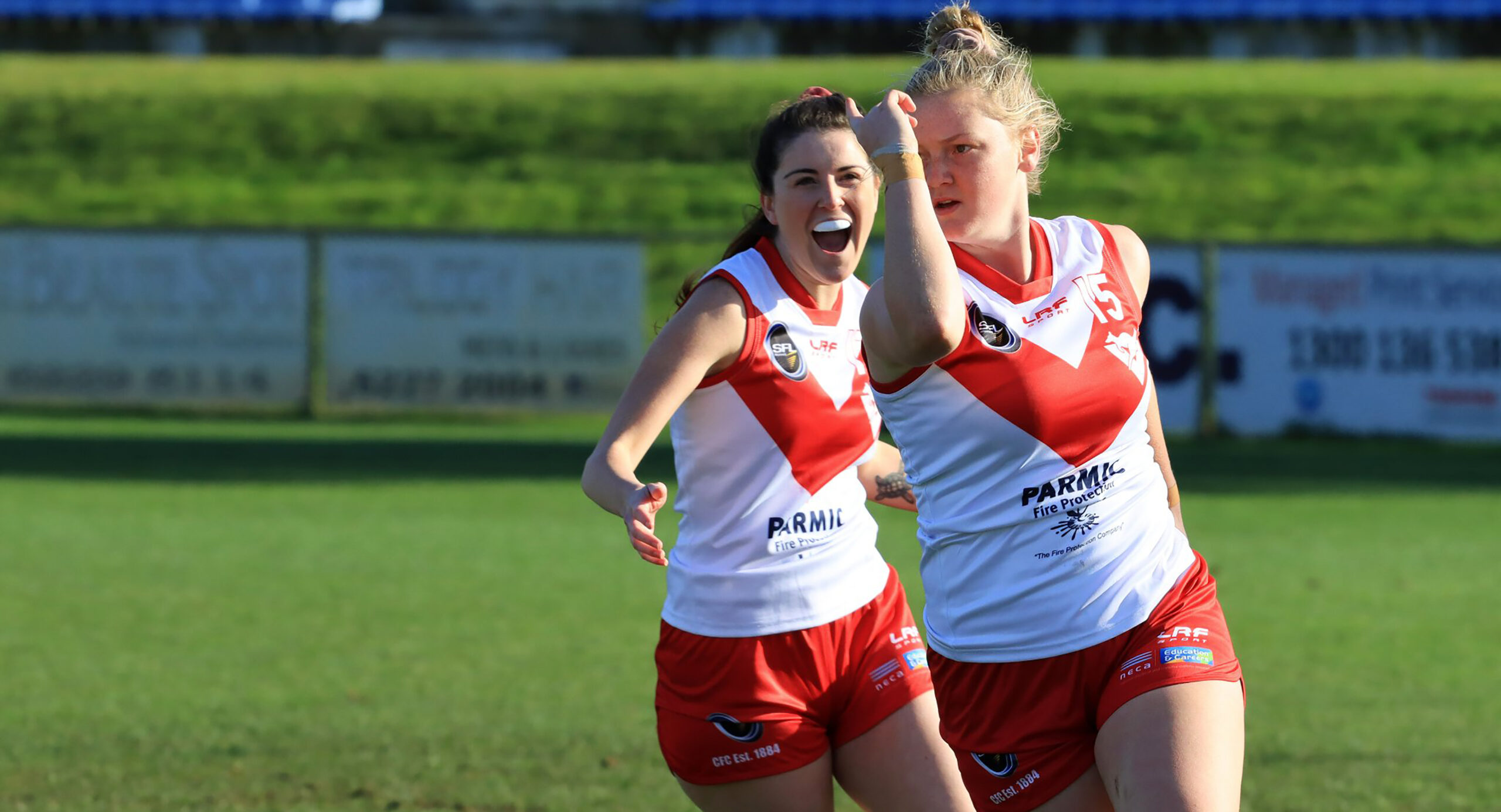 With two home and away games remaining, we remain locked in a three-way tussle with Glenorchy and Kingborough for ladder position with our last game of the year against Kingborough in two weeks' time shaping up to be a key factor in the final standings.
From a player perspective, Rachel Archer has been in a form extravaganza during the latter part of the season with the highlight being a best on ground performance against North Hobart where she continually rebounded every North Hobart forward entry back to our advantage.  The team has also welcomed back Maddy Smith and former captain Grace Mitchell in recent weeks, with Maddy proving to be an instant spark in the forward line bagging 8 goals in just 3 games.
The SFLW season is coming down to the wire and with no clear favourite for the flag, the Roos and perfectly positioned when it matters most.
There are still limited seats available for our 75th Anniversary lunch to be held on 6 August at our home game against Launceston.  If you would like to attend, please reply ASAP to the General Manager via email [email protected] or on 0437 234 125.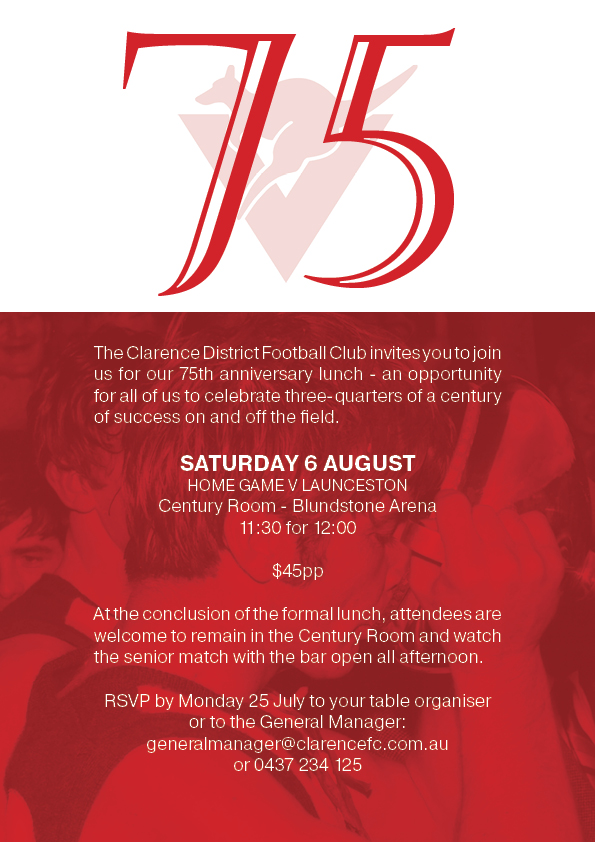 In this issue, we put the sponsor spotlight onto two of the club's local sponsors, Jo Brownless and Kelly Fall from Fall Real Estate. 
At the Clarence Football Club we are lucky to have some fantastic sponsors and our great friends Jo and Kelly from Fall Real Estate have put together a special deal for our members and supporters.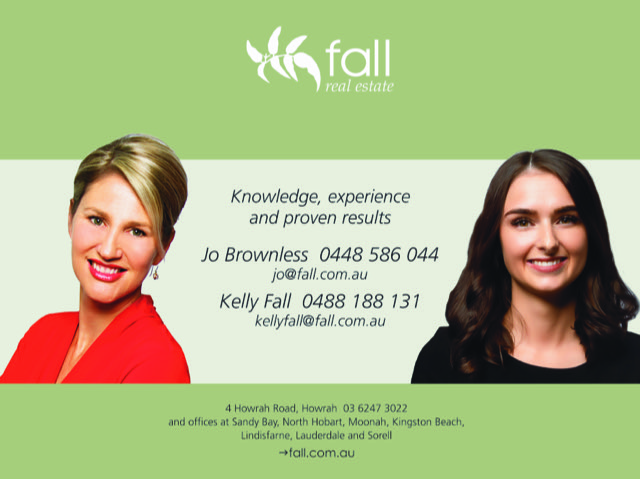 It's a great time to consider selling your property! As proud sponsors of the Clarence Football Club, Jo and Kelly would like to offer a $500 donation to the club for every property listed and sold with Jo Brownless and Kelly Fall.
Don't hesitate to reach out - they are always happy to assist and they are fantastic supporters of the club!
30 July - MEN V NORTH HOBART - BLUNDSTONE ARENA
30 July - 2002 REUNION LUNCH - SOCIAL ROOMS
31 July - WOMEN V SOUTH EAST SUNS - PEMBROKE PARK
6 August - MEN V LAUNCESTON - BLUNDSTONE ARENA
6 August - WOMEN V KINGBOROUGH - BLUNDSTONE ARENA
6 August - 75TH ANNIVERSARY LUNCH - CENTURY ROOM
6 August - WOMEN'S 2012 REUNION - SOCIAL ROOMS
13 August - MEN V GLENORCHY - BLUNDSTONE ARENA
13 August - U15 V LINDISFARNE - BLUNDSTONE ARENA
13 August - JUNIOR PRESENTATION DAY - BLUNDSTONE ARENA